What Is The Recruiting Funnel?
We have definition from Jobvite: Recruitment funnel is a framework for the entire recruitment process to create a never-ending pipeline of candidates so you can find the right people for the right jobs in your company. The five steps of the recruitment funnel are Employment Brand, Sourcing, Candidate Experience, Candidate Selection, and Insight.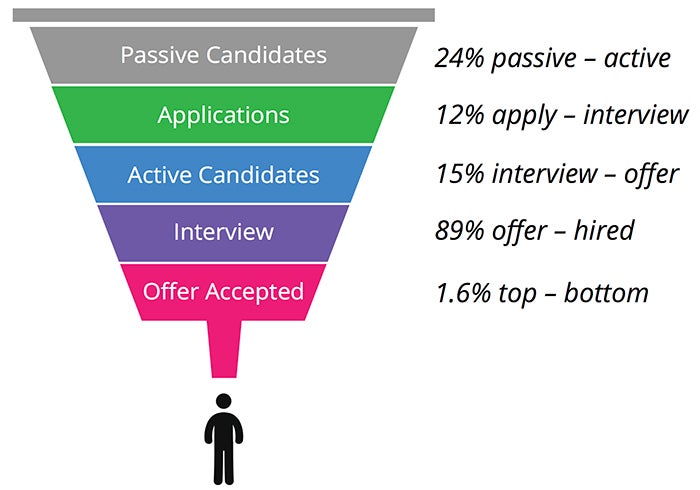 Why is important?
A recruitment funnel is important because it provides visibility into the effectiveness of your recruitment approach and marketing efforts. Using a recruitment funnel from Linked Booster as a framework, a professional recruiter can:
Analyze and assess the reputation of a company brand.
Identify bottlenecks and difficulties in the recruitment process.
Develop the right recruitment strategy enhance resources to have a better conversion rate at each stage.
Develop matching salary, and other factors to match the desire necessity, sensibilities, or preferences of targeted candidate.
Generate a higher conversion rate by matching more potential candidates into the funnel and turning them into new successful team members
How Linked Booster framework can help?
After you searched and got results can add the LinkedIn profiles to list with tags manually. More interesting, now with "Snatch Profiles" feature you can tag and add thousands of LinkedIn profiles automatically to dashboard.
Send the customized invitations to Linkedin profiles and get from 10% to 40% acceptance rate. From our tracking numbers from icon bar, you will know how many invitation requests sent from Linked Booster.
As continuing with the process, you can note about current candidates information with "Note" feature such as "current interview" progress of candidate or note reminder to call/email the candidate (don't miss your leads).
All tags created are displayed at the dashboard, so you are easier to filter out Linkedin profiles.
Conclusion
Even you are a Linkedin starter, organize then automate your LinkedIn activities can save hundreds of hours and earn thousands of dollars every year. Have you used any sales/recruitment funnel for Linkedin? Let's start your journey with Linked Booster today!